FREE Teacher Training Information Meeting
with Amy Caldwell
Sunday, April 30, 2017 4:30pm
Sign Up Now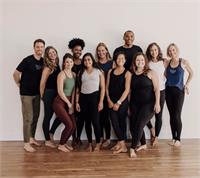 Sunday, April 30th 4:30pm

Come ask questions, meet past and present Yoga One Teacher Training participants and the head teacher Amy Caldwell. Check out the Yoga One Manuals and texts, learn more about the experience and share some yummy snacks.
RSVP to 619.544.0587 or info@YogaOneSanDiego.com

Check out more details about the course on our Teacher Training page:
P.S. All parking is free (yellow, green and meters)
Intermediate Anatomy Workshop
with Nicole Mullins
Saturday, June 10, 2017 12:30pm - Sunday, June 11, 2017 6:30pm
Sign Up Now
This 10-hour course is ideal for yoga teachers and experienced students who want to expand their knowledge of anatomy and how its applies to yoga. Understanding anatomy and biomechanics is a primary key in helping ourselves and our students have the best possible yoga experience.
This workshop will:
-Explore how and why the body moves as it does.
-Present detailed anatomy of the spine, pelvis, hips, knees and shoulders.
-Clarify relationships between the spine, pelvis, shoulders and hips and how these affect almost every other part of the body.
-Address common injuries, contraindications and modifications.
-Use experiential asana to feel in our own bodies the biomechanical concepts presented throughout the course.
-Present therapeutic adjustments to protect joints and soft tissues.
Why take this course?
-Learn how to reduce risk of injury.
-Help students heal from injuries they already have.
-Gain confidence in working with students with physical challenges.
-Accrue Yoga Alliance continuing education credits.
Saturday June 10th 12:30-6:30pm
Sunday June 11th 12:00-6:00pm
Pre-registeration required: $175 by June 1st / $225 by June 8th (last day to register. No refunds)